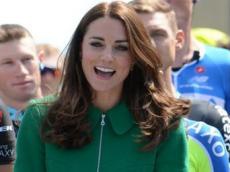 Buckingham Palace has refused to comment on reports that Prince William and Kate Middleton are expecting their second child.
An Australian magazine claims a former school friend of the Duchess has 'confirmed' that she is pregnant.
Old pal Jessica Hay reportedly told New Day magazine that Kate's "inner circle are buzzing" with the baby news.
She believes there will be an announcement in the next few weeks and went on to claim Kate has already put on weight and is making efforts to disguise her figure.
However, the Palace refused to be drawn into speculation.
Sources have also pointed out that Hay and the Duchess are not close friends and have not spoken for many years.
Some observers have added weight to Hay's alleged comments, pointing out that she DID confirm Kate's first pregnancy several weeks before it was officially announced in 2012.

/Daily Mirror/