The "İnam" Centre for Pluralism will hold an exhibition on 23 through 30 July 2010 called "Agdam - Caucasian Hiroshima and a Ghost Town". 60 photos reflecting appearance of Agdam before and after occupation will be exhibited.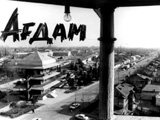 The opening ceremony of the exhibition will be held on 23rd of August, the day of Agdam occupation. Also, at the same time, a documentary film "Caucasian Hiroshima" will be shown. The film is based on photos and videos of Agdam before and after the occupation. This film is produced in Azerbaijani, Russian and English languages.
During the exhibition, booklets on Agdam (in three languages) will be available. A booklet will include statistic indices about losses exposed by Agdam while occupation and citation from foreign journalists. The ambassadors of foreign countries, representatives of international organizations, deputies, ministers and chairpersons of committees and public figures will be invited to the opening ceremony.
The goal of the project implemented by the financial support of the Board of State Support to the Non-Governmental Organizations under the President of the Azerbaijan Republic is to include the word "Caucasian Hiroshima" to our language of media and policy aiming at facilitating the understanding of occupation of Karabakh by the world community, to spread out the fact of exposure of Karabakh to the historical genocide in the world's leading social internet networks and the portals.
/Today.Az/