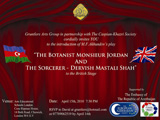 On Thursday (15 of April) is destined to be an important date for the London stage with the inaugural English-language performance of the famous 19th century Azerbaijani comedy "The Botanist Monsieur Jordan and the Sorcerer-Dervish Mastali Shah".
The evening will begin with an informal reception, MCed by Sanan Aly of Gruntlers' Arts Group, who has translated the play. After a performance of Azerbaijani dance, there will be an introductory lecture by British poet David Parry, followed by four dramatized scenes, which will be contextualized. Traditional Azerbaijani music will conclude the evening.
Following the performance, scenes from the film version of the play will be shown in the ground-floor bar, together with short videos showcasing both established and developing Azerbaijani artists.
/Today.Az/