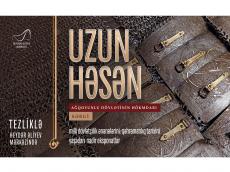 Laman Ismayilova
Heydar Aliyev Center will host an exhibition "Uzun Hasan - ruler of Aghgoyunlu State".
This year marks the 600th anniversary of the birth of Uzun Hasan, Azernews reports.
The exhibition will trace the history of the Aghgoyunlu State, founded by prominent statesman and military leader Uzun Hasan, who ruled between 1452 and 1478, from a small principality to a great empire, and its special place in the history of Azerbaijani statehood.
At the exhibition, the visitors will have an opportunity to get acquainted with many rare exhibits, including historical artifacts kept in the Harbiye Military Museum (Harbiye Askeri Müzesi ve Kültür Sitesi Komutanl???) in Istanbul, which have not been taken outside Turkiye so far.