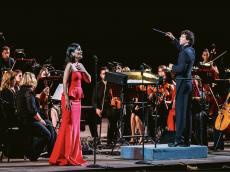 Renowned opera singer, Honored artist Afag Abbasova has thrilled the Italian audience.
The opera singer performed at the concert program themed Puccini's Heroes Concert held in Torre del Lago, Tuscany region, Azernews reports.
Giacomo Puccini is well-known as one of the finest Italian composers, whose operas, including La Boheme, Tosca, Madama Butterfly, and Turandot are among the most frequently performed worldwide.
Puccini stands in line with prominent composers, like Pietro Mascagni, Ruggero Leoncavallo, Umberto Giordano, and Francesco Cilea, who composed music pieces in verismo style (realism).
At the concert, Afaq Abbasova, shared the same stage with the Italian opera singers. She performed together with the world-famous soprano Martina Serafin.
Famous for her beautiful voice, Afag Abbasova never ceases to amaze opera lovers. She is a leading soloist of the Azerbaijan State Academic Opera and Ballet Theater.
In 2019, Afag Abbasova was presented the Commonwealth of Debuts Prize, awarded to cultural figures of the Commonwealth countries, whose creative achievements have made a significant contribution to the development and popularization of various art forms.