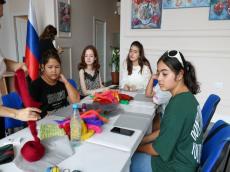 The Russian Information and Cultural Center in Baku has invited art lovers to tune into the felt art.
A master class on felt art was organized by the Association of Russian Youth of Azerbaijan with the support of the Russian House, Azernews reports.
During the workshop, fashion designer Naila Karimova provided insight into the felt art, materials that are used in the manufacture of felt products, as well as various felting techniques.
The master class participants really enjoyed the entire creative process.
Felt art is an ancient technique for making products from wool. It is believed that it originated in Asia, around 5,000 years ago.
The historical evidence attests that the Nomads first started to use it, when they found it to be a perfect fabric for tents. Traditionally felt is made from natural materials, especially wool. In general, there are different types of felting but the most common ones include wool felt, polyester felt and acrylic felt.
Note that the Russian Information and Cultural Center has been operating in Baku since March 2009.
The Cultural Center focuses on promotion of cultural, educational and scientific ties between Azerbaijan and Russia.