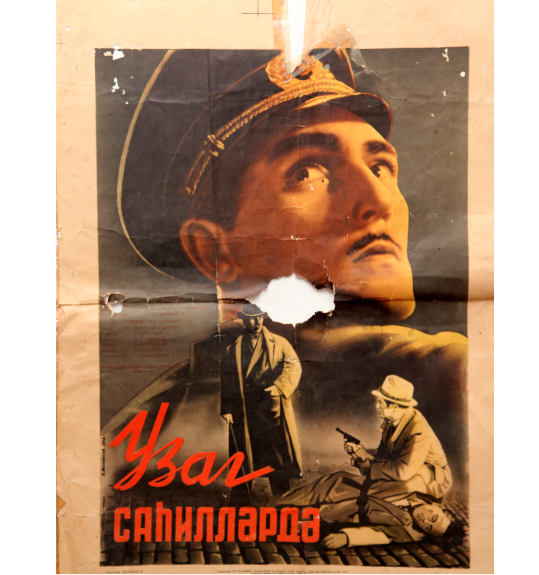 Azerbaijan State Film Fund has enriched its collection with a movie poster of the feature film "On the Distant Shores" (1958).
The movie poster was presented from the personal archive of the well-known cameraman and director, Honored Art Worker Alakbar Muradov (1948-2013), Azernews reports.
The poster was handed over to the fund by his son- film director Murad Muradov. A total of 300 copies of the poster were issued. The condition of the presented copy is not entirely satisfactory, some of its parts are lost.
"On Distant Shores" is a Soviet-era Azerbaijani war film, co-written by Imran Gasimov, Hasan Seyidbayli and directed by Tofig Taghizade.
The film portrays the life of the legendary Azerbaijani guerrilla of the Second World War Mehdi Huseynzade, who fought the Nazi forces in the present-day Italy and Slovenia, hence the film's name referring to the Adriatic Sea.
The film cast included Nodar Shashigoglu as Mehdi Huseynzade (Mihajlo), Yury Bogolyubov as Veselin, Aydar Yelikoyeva as Anzhelika, Alasgar Alakbarov as Ferrero
Lev Borukhov as Warranty and Andrei Fajt as Maselli.
The Azerbaijan State Film Fund is a public fund for support of the film industry and the preservation of film history.
The State Film Fund has recently created a personal archival fund of the well-known cameraman, Honored Art Worker Teyyub Akhundov (1920-1991).
The archive includes over 200 photographs, various letters, diplomas and other materials related to the life of national cinematographer.
The State Film Fund also hosted an exhibition timed to the 125th anniversary of Azerbaijani cinema and the centenary of AzerbaijanFilm Studio.
Over 300 photographs were provided for the exhibition by Honored Cultural Worker Parviz Guliyev.