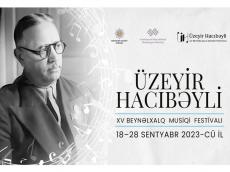 The 15th Uzeyir Hajibayli International Music Festival will be held in Azerbaijan on September 18-28.
The festival is co-organized by the Heydar Aliyev Foundation jointly with the Azerbaijan Culture Ministry, Azernews reports.
Magnificent concerts, theatrical performances, exhibitions, scientific conferences, master classes and other events await the festival guests in Baku, Ganja, Shamkir and Shusha.
The festival has been held in Azerbaijan since 2009, traditionally the first day of the festival coincides with the National Music Day.
On the first day of the festival, on September 18, the soloists of the Azerbaijan State Academic Opera and Ballet Theater presented the opera "Leyli and Majnun" in Shusha.
A concert of the Azerbaijan State Orchestra of Wind Instruments will take place in Baku at the Fountain Square. On the evening of September 18, the ballet "Legend of Love" by the People's Artist, composer Arif Melikov will be presented at the Heydar Aliyev Palace.
The 15th Uzeyir Hajibayli International Music Festival will be remembered this year for special projects for young talents. Thus, the Joint Orchestra of Folk Instruments consisting of 200 students of the Azerbaijan State Children's Philharmonic Society and children's music schools operating in Baku will perform in the park of the Heydar Aliyev Center. Art programs will be organized with the participation of young talents.
During the festival, vocal works by Uzeyir Hajibayli will be performed in karaoke format in specially designated places in large shopping centers in Baku. Anyone can join this action.
The events within the festival will take place at Azerbaijan State Academic Philharmonic Society, National Art Museum, International Mugham Center, the Hall of Chamber and Organ Music, the Opera Studio of the Baku Musical Academy and other venues.
The festival will bring together talented musicians from the USA, France, Georgia, Croatia, Russia, Singapore and other countries.
Uzeyir Hajibayli laid the foundation of a national musical style. He was the first composer of an opera in the Islamic world.
The opera "Leyli and Majnun" (1908) is based on traditional folk music and dance, musical genres that relied on oral traditions.
Furthermore, the composer wrote his second opera "Sheikh Sanan", "Rustam and Sohrab", "Asli and Karam", "Shah Abbas" and "Khurshudbanu and Harun" and "Leyli" entirely based on the national folk music elements, primarily mugham.
He also composed three comedies including, "Husband and Wife" (1910), "If not this one, that one" (1911) and "Arshin Mal Alan" (1913).
"The Cloth Peddler" was the latest and one of the most popular operettas of the eminent composer.
The operetta has been successfully performed in a plethora of languages in over 60 countries of the world, including in the U.S, Austria, France, China, Greece, India, Russia, and Turkiye.