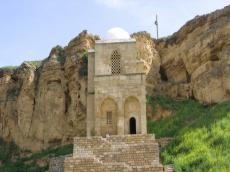 Shamakhi might be included in UNESCO List of Intangible Cultural Heritage as the birthplace of outstanding poets and writers.
The Culture Minister Adil Karimli said this at the Forum of Azerbaijani Language and Literature, Azernews reports.
"Therefore, the opening of the forum in Shamakhi should not be considered a coincidence," the minister added.
For centuries, Shamakhi was one of Azerbaijan's most prominent cities, an important cultural and trading centre and the royal seat of the Shirvanshahs (9th to 18th centuries). Furthermore, it is known as the root of Azerbaijani literature.
The city is well known for wine-making and carpet weaving. To meet craftsmen, weaving famous carpets such as "Shirvan", "Gobustan", "Shamakhi", "Israfil" and "Ardzhiman" tourists can visit village of Jangi.
Note that Azerbaijan and UNESCO have been enjoying successful cooperation since 1992.
In 2003, the parties signed the framework agreement on cooperation in the areas of culture, science, education, and communication, which allowed Azerbaijan to become one of the donors of UNESCO.
Many Azerbaijani cultural sites have been included in UNESCO's World Heritage List.
Icherisheher (Old City), Maiden Tower, and Shirvanshah's palace were included in the UNESCO World Heritage List in 2000, while since 2007 the Gobustan National Historical-Artistic reserve was also listed among these heritages.
Shaki, an important city at the crossroads of the historic Silk Roads was inscribed on UNESCO's World Heritage List during the 43rd session of the World Heritage Committee held in Baku.
In 2017, UNESCO recognized Azerbaijan's dolma as the Intangible Cultural Heritage of Humanity.
Art of crafting and playing with kamancha, presented jointly by Azerbaijan and Iran, was also inscribed on the UNESCO Representative List of the Intangible Cultural Heritage of Humanity.
Moreover, the Pomegranate Festival, Art of miniature were inscribed in UNESCO Representative List in December 2020.
UNESCO also successfully celebrated the 600th anniversary of the death of the great Azerbaijani poet and thinker Imadaddin Nasimi and the 200th anniversary of the first settlement of Germans in Azerbaijan.
In 2021, Lankaran region was included in the UNESCO list "Network of Creative Cities".