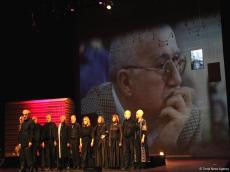 Azerbaijan's Yugh Theater can't wait to present new productions.
In their remarks, the theater director, Honored Cultural Worker Islam Hasanov and the chief director Mikayil Mikayilov shared the future plans and new performances, Azernews reports.
In the coming season, the theater will present four plays, including Florian Zeller's "Father", Toygun Orbay's "21:15 Train", Koki Mitani's "Laughter Academy" and Ilgmar Vilkvist's "Gelver's night".
Islam Hasanov and Mikayil Mikayilova also discussed participation in the international festivals and theater tours scheduled for this year.
Yugh Theater was established in 1989 under the auspices of the Azerbaijan State Academic National Drama Theater by Vagif Ibrahimoglu and Hasanaga Turabov. In 1992, it received the status of the state theater.
The name of the theater carries a meaning: yugh means "an old rite".
The main principle of this avant-garde theater is the relevance of chosen topics, non-standard interpretation of familiar stories and experimenting with new forms.
Throughout its history, the Yugh Theater has presented over 90 plays. As for now, the theater takes a special place in the country's theater art.
Plays by William Shakespeare, Johann Wolfgang von Goethe, Giovanni Boccaccio, Nikolai Gogol, Kobo Abe, as well as Azerbaijani classical and contemporary authors are regularly staged in the theater.