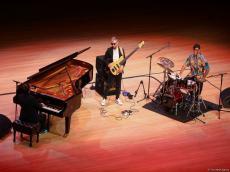 The 18th Baku International Jazz Festival will be held on October 6-15.
World-famous vocalists and musicians will take part in the festival such as Sinem Islamoglu Quartet (Turkiye), Jazzanova Live & DJ Amir (Germany), Sketchbook Quartet (Austria), Alon Farber (Israel), Oddgeir Berg Trio (Norway) and many others, Azernews reports.
By tradition, the Baku Jazz Festival offers jazz fans a wide program which includes spectacular concerts, colorful exhibitions, competitions and much more.
Baku Jazz Festival also calls for young talents to join the International Contest of Young Performers "I am Jazzman-2023".
The competition reveals new names and gives young musicians the opportunity to demonstrate their talents.
Musical instrument performers or jazz singers under the age of 30 can take part in the competition.
Within the festival, Honored Artist Eldar Gurbanov will also showcase his series of paintings dedicated to jazz.
For more than 15 years, the Baku Jazz Festival has become an essential part of the country's musical life.
The musical event is organized by acclaimed saxophonist Rain Sultanov to showcase Azerbaijan's long-running attachment to jazz.
The first ever Baku Jazz Festival was held in 2005 since then it has grown to be widely recognized as one of the country's leading festivals.