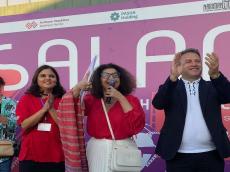 The 2nd SALAM International Youth Film Festival has come to an end.
The film festival was co-organized by Narimanfilm Studio with the support of the Culture Ministry, the Ministry of Science and Education, as well as PASHA Holding's general sponsorship, Azernews reports.
Mirbala Salimli's film "Red Garden" (2016) was screened on the festival's last day. Both the director himself and actors Magsud Mammadov and Gulzar Gurbanova participated in the event.
After watching the film, the teenagers had very interesting discussions with the creative team and shared their impressions about Mirbala Salimli's cinema work.
Afterwards, the festival participants Leyla and Maryam Mammadova spoke about the process of creating their book "Flowers of Karabakh".
Next, the young talents watched the short films they made during the cinema marathon.
The screening of these films caused great excitement and left deep impressions.
At the closing ceremony, art director of the SALAM International Youth Film Festival Leyla Dostalizade thanked all the participants, guests and organizations that supported the project.
Foreign participants were presented with certificates. The festival's program director Nargiz Bagirzade announced the winners determined by the votes of the festival participants who acted as the jury.
Aurora Gossé's "Dancing Queen" (2023) won the Best Feature Film Award. Mirbala Salimli's film "Red Garden" was granted the Jury Special Award.
Asaf Saban's film "Delegation" was presented with a special award "For the Memory and Affirmation of Human Dignity".
At the end of the ceremony, the founder-president Nariman Mammadov announced the closing of the festival and once again thanked the 350 participants and guests of the festival, wishing them further success.
Note that SALAM International Youth Film Festival has been operating since 2019.
The main purpose of the festival is to create friendship between teenagers, to promote the Azerbaijani culture, to educate the youth in accordance with the worldwide spiritual values, as well as support in the formation of the good art taste and understanding of the cinema among the young generation through demonstration of professional high-quality films.
Media partners of the event are Azernews.Az, Trend.Az, Day.Az and Milli.Az.