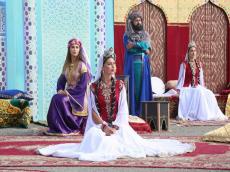 Rena Murshud
The forum, organized by the Heydar Aliyev Foundation and the Ministry of Culture, with the support of the Ministry of Science and Education, the National Academy of Sciences of Azerbaijan, took place within the framework of events dedicated to the 100th anniversary of the National Leader Heydar Aliyev, Azernews reports.
Minister of Culture Adil Karimli spoke at the opening ceremony of the event and stressed the importance of the Forum.
The Minister said that the organization of the Forum is part of a series of projects implemented by the Ministry of Culture. Noting the special importance of the forum dedicated to the 100th anniversary of the national leader, the minister said: "National Leader Heydar Aliyev has always paid special attention to the development and purity of our native language - the Azerbaijani language. Today, President Ilham Aliyev successfully continues this policy. The main expectations from the forum are to identify problems, discuss them, and, finally, take into account these problems in the state strategy for the future," the minister noted.
Minister of Science and Education Emin Amrullaev stated that the development and clarification of the Azerbaijani language is one of the important tasks ahead. Emphasizing that native speakers of our language living outside of Azerbaijan have problems related to education, the minister said: "Starting from this academic year, our compatriots living in foreign countries will be given online lessons in the Azerbaijani language. It is gratifying that applications have already been received over 400. I think this is important for Azerbaijanis living outside of Azerbaijan," the minister added.
After the opening speeches, a video dedicated to the Azerbaijani language was shown.
The forum continues with a panel session on the topic "The impact of globalization on the Azerbaijani language and the mechanisms for protecting the purity of our native language."
It should be noted that the work of the Forum, which will be attended by well-known linguists and literary critics, writers, and publishers, will continue in Baku on September 3-4. At the forum, where extensive discussions will be held with the participation of the literary and scientific community, the role of the Azerbaijani language and literature in the preservation, development, and popularization of our culture, the preservation of the purity of the native language, modern literary processes, the ideological essence and modern problems of children's literature in our country, the state of the domestic book industry and state support for this area, the promotion of reading among children and adolescents, the literary factor in the development of theater and cinema. and other areas will be discussed.
The opinions and suggestions of experts within the framework of the Forum will be summarized and reflected in the State Program "Culture of Azerbaijan - 2040".