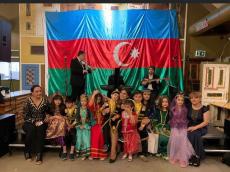 Azerbaijani composer Saadat Ferziyeva has been awarded Golden Time Talent Award in London.
The national composer won second place for the kids songs "Colorful World" and "ABC", Azernews reports.
Golden Time Talent is an international competition, which focuses on search for talents. The competition brought together participants from 20 countries.
Saadat Ferziyeva works as a music teacher at Karabakh School (UK), which carries out its activities with the support of the Azerbaijan State Committee on Work with Diaspora.
The school teaches the Azerbaijani language, literature, history, music and drawing. Education at Karabakh School is free.