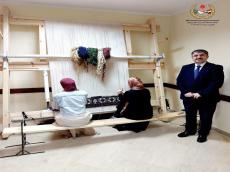 The Egyptian-Azerbaijani Friendship Society, operating in Cairo, Egypt, has launched a new project within the framework of the Year of Heydar Aliyev - teaching the art of carpet weaving, Azernews reports.
Chairman of the Egypt-Azerbaijan Friendship Society, research scientist Seymur Nasirov said that 52 students from different countries will learn the secrets of this ancient art under the guidance of 57-year-old carpet master Jamal Muhammad in a course created to popularize the art of carpet weaving in Azerbaijan.
Given the great interest in the art of carpet weaving in Egypt, further expansion of the course activities is planned in the future. There are currently over 120 students waiting in line for future courses.
The chairman of the society, scientist-researcher Seymour Nasirov, at a meeting with participants in carpet weaving courses, said that the organization he represents contributes to strengthening ties between peoples and has been operating for many years, serving students of different nationalities. In this regard, the leadership of the society, taking into account the numerous requests of young people who want to learn the ancient art of carpet weaving, decided to start a new project.
Seymur Nasirov drew attention to the fact that the Azerbaijani state pays great attention to the art of carpet weaving, which occupies a special place in the lives of our people. At the initiative of the President of the Heydar Aliyev Foundation, First Vice-President of Azerbaijan Mehriban Aliyeva, various international projects are being implemented in this direction.
Recall that, in addition to the art of carpet weaving, more than 600 students from 55 countries are currently studying the Azerbaijani language, the art of mugham, and other subjects offered by the society free of charge.
The news about the company's launch of a carpet weaving project in Cairo was widely covered in the media of Egypt, Algeria, Saudi Arabia, and other countries.