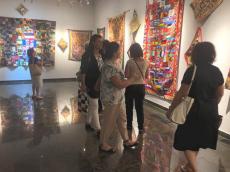 Creative Women Public Association has opened an exhibition of arts and crafts at Vajiha Samadova Exhibition Hall.
The Association has previously won the grant competition of the Agency for the State Support to Non-Governmental Organizations (NGOs) on the theme "Organization of arts and crafts courses for low-income women (ceramics and gurama), Azernews reports.
The main goal of the project is to implement courses in two areas of arts and crafts - ceramics and gurama - for low-income women, to teach them new skills and to develop arts and crafts in the country. As a result of the classes, the women have learned a new profession and will be able to create and sell handmade products in the future. These courses were held for two months.
Chairwoman of Creative Women Public Association Afag Huseynova said that the association has been operating for 30 years.
"As part of our activities, we hold various courses, classes, where we teach new skills and develop women's abilities. As a result of two-month courses on ceramics and creation of gurama products, an exposition has been presented at Vajiha Samadova Exhibition Hall. Everyone can familiarize themselves with the exposition, as well as purchase their favorite products," she said.
The exhibition features art works by 12 women participating in the course.
Along with this, the exhibition includes works of the famous patchwork master Khalida Nasirova (1946-2023). The course participants also created their works in her workshop.
In addition, works dedicated to the city of Shusha, Garabagh, Azerbaijan's victory in the 44-day Patriotic War as well as paintings by the members of the association.
The exhibition aroused great interest among the public. The art lovers have a chance to view the art works for ten days.