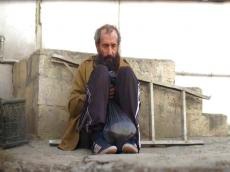 Hikmat Rahimov's film has been included in the the main competition program of feature films at Lendok International Film Festival.
The film "Nude" was produced last year and has already won international prizes at film festivals in Turkiye, France and the Czech Republic, Azernews reports.
The film, which is a project of the Azerbaijan Public Television (ITV), is the directorial debut of theater and film actor Hikmat Rahimov.
According to the plot of the film, a very poor man dies. His son named Rustam, who is ill, not only does not have the means to adequately see off his father on his last journey, but also for the funeral. Together with his neighbor Sabir, he is forced to travel around with his father's coffin. And different people come across...
Honored Artists Rasim Jafar, Aishad Mammadov and Elshan Rustamov, actors Azer Aydemir, Elshan Askarov, Mammad Mammadli starred in the film.
Before the screening, film reviewer Natalia Kazurova will present the material "Laboratory of Azerbaijani cinema: models for assembly". The film screening will be followed by discussion with Hikmat Rahimov.
Lendoc Film Festival is an international film festival held in St. Petersburg since 2020 on the basis of the Lendoc Open Film Studio.
The project is aimed at supporting and developing interest in the cultural and ethnic wealth and diversity of the regions of Russia, CIS countries and neighboring countries, as well as creating joint film projects.
The Lendok International Film Festival 2023 will start on August 25 in St. Petersburg, Russia.
Over 40 feature and documentary films by directors from Azerbaijan, Russia, Kazakhstan, Uzbekistan, Kyrgyzstan and other countries will be screened as part of the festival.
Film director and producer Fariz Ahmadov has been invited as a jury chairman member to the Lendok International Film Festival.
Fariz Ahmadov will act as the jury chairman for the documentary films program, while Uzbek director, screenwriter Ali Khamrayev is the jury chairman of the feature films program.