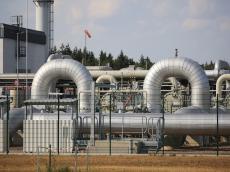 The European Union countries of Italy, Greece, and Bulgaria boosted gas imports from Azerbaijan 6.1% year-on-year to 282,013 terajoules (TJ) in January-July 2023, according to Eurostat, the EU's statistical office, Azernews reports, citing Interfax.
According to Eurostat, the EU countries paid 3.85 billion euros, a drop of 44.9%, for gas supplies from Azerbaijan during the reporting period.
The EU countries reduced gas imports from Azerbaijan 8.3% year-on-year to 40,138 TJ in July 2023, paying 337.417 million euros, a fall of nearly 75% year-on-year.
As previously reported, Eurostat data indicated that the EU countries imported natural gas from Azerbaijan totaling 15.599 billion euros in 2022, a surge of four-fold year-on-year.
Azerbaijan boosted gas exports 18% to 22.3 billion cubic meters in 2022, ramping up supplies to Europe 39% to 11.4 bcm.
Azerbaijan plans to export 24.5 bcm of gas in 2023, shipping about 12 bcm to Europe.