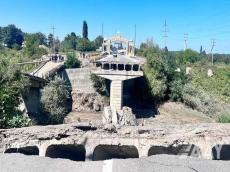 By Azernews 
Strong flood waters stemming from intensive rains caused the collapse of a road bridge built in 1974, located on Gudyalchay, at the 27th km of the state border of the Gandob-Khachmaz-Yalama-Russian Federation-Republic road, Azernews reports, citing AAYDA.
Special equipment and the labor force of the AAYDA were immediately deployed to the territory, and additional security measures were taken.
Works on liquidation of the damage caused by the natural disaster are underway.
Alternatively, drivers can use the territory of Khachmaz district, Gimilgishlak village.
It was decided to build a new road bridge in place of the bridge that collapsed as a result of the natural disaster. In this regard, special equipment will be delivered to the site in the afternoon.
The construction of the new bridge is planned to be carried out in a short period of time.
As an alternative road, drivers can temporarily use the road passing through Khachmaz district, Gimilgishlak village.