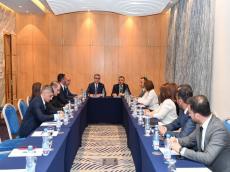 The head of the Export and Investment Promotion Agency - AZPROMO Yusif Abdullayev met with members of the Azerbaijani Businessmen's Union of Georgia (AZEBI) in Tbilisi, Azernews reports, citing AZPROMO.
AZPROMO told that during the meeting, Yusif Abdullayev gave detailed information about the activities of the institution he represented and noted that institutions like AZEBI contributed to the development of economic relations between Azerbaijan and Georgia. He emphasized the importance of holding such meetings in a wider format in order to achieve practical results. It was noted that AZPROMO is ready to provide the members of AZEBI with the production of local products in Georgia under the name of the national brand "Made in Azerbaijan", as the coordinator of the two companies in the fields, as well as other necessary support measures.
At the meeting, opinions were exchanged regarding the issues faced by the members of AZEBI and their elimination, and the questions of entrepreneurs were answered. A preliminary agreement was reached on the regular holding of similar meetings.