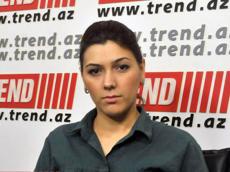 By Aygun Badalova
The fact that the EU is currently focusing on the consolidation of the European energy market and sees South-East Europe (SEE) countries as important partners in this process, is certainly a further step in the right direction, Ditmir Bushati, minister of foreign affairs for Albania and member of European Council on Foreign Relations said in an article for ECFR.
"On 20th July the Council of EU welcomed the EU Energy Diplomacy Action Plan proposed jointly by the High Representative and the Commission. This Action Plan seeks to initiate new synergies with EU partners and facilitate the diversification of energy connections and providers," minister said.
The Council Conclusions on EU Energy Diplomacy rightly point out that "diplomatic support should focus on the Southern Gas Corridor and the strategic potential of the Eastern-Mediterranean region", the article said.
Trans Adriatic Pipeline (TAP), according to Bushati, currently remains the only tangible project of the wider South Corridor.
"TAP's first stage of construction started only few weeks ago in Albania and with its completion the country will be in a position to become an energy hub, enabling the supply of neighboring countries through the much needed Ionian Adriatic Pipeline (IAP), a missing piece in south-east Europe's energy security toolkit," Bushati said in the article.
These pipelines, minister said, will considerably diversify South-east Europe's energy supply whilst helping to avoid high prices and unpleasant events such as the epic standoffs Eastern Europe has been witnessing over the past decade.
He believes that in order to increase energy security in the region make better use of the existing energy potentials is needed.
"To put it differently, what is desperately needed at this point is to connect the energy islands in this corner of Europe, he said. Better energy connectivity will allow the countries of the region to integrate over longer distances and enhance their capability to face the supply shocks."
Yet the existing projects of interconnection are not enough to get towards a favorable Energy-Security nexus in south-east Europe, according to Bushati.
"In a challenging geopolitical landscape, it is high time for the EU to elaborate a bold and comprehensive energy security concept for south-east Europe. This will help to ensure a good investment climate for European companies in the region and bring back healthy competition against corruptive practices that usually tend to favor the involvement of third actors," Bushati said.