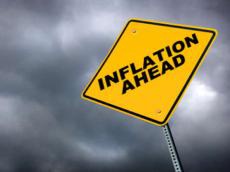 /AzerNews/
By Mushvig Mehdiyev
Armenia may face an increase of its inflation rate in 2015 due to a recent 40 percent increase in the salaries of public officials.
Head of the Central Bank, Arthur Javadyan said on November 11 that the increase of the salaries beginning since July 1 will considerably affect the GDP growth in Armenia.
"We have included this forecast in the Central Bank's monetary policy. We also envisaged appropriate measures to keep the inflation rate at the target 4+/- 1.5 percent level," Javadyan noted.
The New York-based Trading Economics, which uses official sources and data to provide accurate information about countries all over the world, reported that the inflation rate in Armenia was nearly 2.2 percent as of this October, surpassing the same index of September by 0.7 percent.
The average inflation rate in Armenia has been standing roughly at 734 percent from 1993 to 2014, with the highest rate at 23 percent in June, 1994 and a record low of about (-) 5.52 percent in March, 1999, according to the Trading Economics.
The basic state pension rate in Armenia will increase from $33.7 to $40, while the average pension will reach $98.7 in 2015. The current minimum consumer basket in the country is calculated at about $135 per capita.
A member of the Armenian National Congress parliamentary fraction Nikol Pashinyan said at a parliamentary session that the residents cannot realize the real effects of figures, as the country's finance minister owns $6 million fortune.
Finance Minister Gagik Khachatrayn, who revealed his income and property worth $6 million in a written income declaration, is one of the wealthiest statesmen in Armenia. Khachatryan has been serving only in public offices since 1996 and his huge fortune is unacceptable under the constitution of the country.
Pashinyan came out with a strange offer to compare the state of well-being between the minister and himself. He called on the minister to take off his coat before the journalists and show its brand name to reveal whose coat is more expensive.
The parliamentarian added that Khachatryan speaks about the meager increase of the teachers' salaries, while the price of his coat exceeds the total amount of the wages of teachers for several years.
The minister claimed that the amount provided in his income declaration is official and verified. He refused to undress his coat.
A "unique" way of determining who is wealthier or whose coat is more expensive is to make an investigation into Armenian MPs properties and their role in the country's political life. The public officers of the former Soviet nation try to imitate the Milan Fashion Week, which is held in September every year. By this progress, they may propose a bill to announce November as the "fashion month" in Armenia's legislative body, rather thinking about social problems of their people - one third of which are officially recognized as poor.