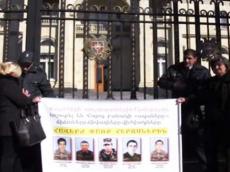 /AzerNews/
By Mushvig Mehdiyev
Mothers of the Armenian soldiers, who died in non-combat conditions staged a protest in front of the presidential palace in Yerevan on November 6.
None of the state officials came out to meet with the parents and listen to their complaints.
"If Serzh Sargysan wanted to deal with the cases of soldier deaths, he would receive us. He doesn't receive us. It means that the soldiers are killed on his orders," Nana Muradyan, the mother of a deceased soldier Valeriy Muradyan said.
Armenian army is facing frequent non-combat deaths and the government spares no effort to hide the facts instead of instructing the relevant bodies to launch an investigation into it.
Now the angry parents of the soldiers are demanding the authorities to make a comprehensive investigation.
Local media has repeatedly reported that the massive poisoning, careless use of weapons, as well as different virus and infection diseases, chronic illnesses are triggering further murder cases in the Armenian army's units. Even the army officers are reportedly killing the soldiers who show unwillingness to obey their illegal orders.
Angry parents, who gathered before the presidential office at Bagramyan 26 street in Yerevan, claimed that police didn't prevent them from rallying, because President Serzh Sargsyan was not in the country and is now in Moscow for an official visit.
Meanwhile, local Hraparak paper wrote that the Armenian president has held several confidential meetings in Moscow to discuss the latest developments in the region, particularly in Georgia. He also had held talks with Russian officials on the next meeting with his Azerbaijani counterpart. No meeting has been reported between him and the Russian President Vladimir Putin.
The desperate mothers of the deceased soldiers carried a board which read "Officers of the Armenian army - worms and monsters are killing the eagles defending the motherland."
Armenian army is reportedly deemed as the weakest army in the region. The Global Firepower Index 2014, which provides world military strength rankings, didn't even include Armenia into its 106-country list, proving the disastrous military capabilities of the post-Soviet nation. Armenia's neighbors Russia ranked the second, while Turkey was the eighth. Azerbaijan was the 50th and Georgia the 64th in the report.