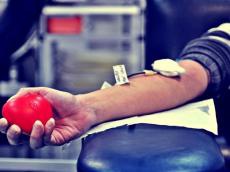 /AzerNews/
By Amina Nazarli
Giving life to others by blood donating is a humanitarian move. Blood is one of the most precious gifts that anyone can give to another one. Donation of blood can save millions of lives.
In Azerbaijan, there are a lot of patients who need blood for their survival. For example, children with thalassemia are in urgent need of blood.
"The number of blood donors is steadily growing in Azerbaijan as compared to previous years," the Central Blood Bank reported.
A total of 50,000 blood donors were registered in the country last year. The number of donors is expected to reach 65,000 people this year.
The Central Blood Bank has mobile teams who travel to regions and carry out remunerated blood donation among the population as well as in various organizations.
Donor blood is needed in treatment of children and adults with blood diseases or cancer. Donated blood is also needed for victims of accidents, surgical patients, pregnant women, those who have suffered from burns and injuries.
Any healthy person over 18 years old can be a blood donor.
A person who wishes to donate his/her blood and save someone's life should apply for the Central Blood Bank. Doctors first take a sample from the applicant's finger for a medical examination. Thereby, they determine the level of your hemoglobin in the blood and get assured that donation will not lead to anemia (decrease in amount of red blood cells) in you. However, there are certain medical and social contraindications to donation of blood and blood components. Absolute contraindications are the presence of serious diseases such as HIV, syphilis, hepatitis, tuberculosis, blood diseases and cancer. If after these procedures everything is deemed good, the applicant is announced a fit candidate to donate his/her blood.

The doctors say that a donor must weight at least 50 kg. A healthy person may donate about 200- 470 ml of blood - your body can easily restore this amount of blood after a short period. But any amount more than this norm may hurt your body. It is important that a person, who is donating his blood has a full breakfast and full energy.

Periodic blood donation updates blood and reduces the risk of a heart attack at least three times. It also extends youthfulness and life expectancy of the donor would become longer and better for 5-8 years than average person.
Today, in 62 foreign countries (USA, UK, Switzerland, Spain and many others) donation is gratuitous. Donors do not receive monetary compensation for blood donation. Various voluntary actions, activities are held in Azerbaijan annually. In such scared holidays as Ramadan, people voluntarily donate their blood and promote attraction of people to such a charity event.
June 14 is marked each year the World Blood Donor Day. On this day countries around the world carry out various activities to attract more attention of international organizations, non-governmental organizations and groups of people related to the global blood safety, with a request to join in promoting and supporting voluntary donation, and raise awareness about the need for the safety of donated blood and blood components. This day is a day of gratitude, recognition and appreciation of voluntary blood donors who give their blood to save the lives of others.