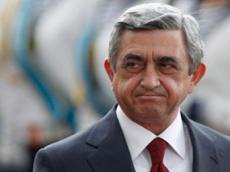 By AzerNews
Armenian government is unable to fulfill its promises given to citizens who are living in a hopeless situation.
Some 200 Armenian families in Yerevan's central Kond quarter have been homeless for seven years.
In 2007, the government allocated a 172.190.64 sq m land to "Downtown Yerevan" company in Kond quarter for construction of an apartment complex.
According to signed contracts with Konda's residents, the complex had to be completed by 2012, but only the first floor of the building has been built so far.
The government promised the families to provide them with apartments within 2.5 years in 2007. Now, the homeless families are angry with government's empty promises.
The desperate residents of Kond quarter held a protest rally in front of the presidential residence on July 16. They hoped to meet the president. The protesters said they live in rented apartments.
After an hour, President Serzh Sargsyan came up and met the protesters but his reply to their demands surprised anyone there.
"Well, we are working on this issue", he said. In response, the citizens said how the problem is going to be resolved, as there is no construction work underway. Sargsyan repeated his answer which provoked outrage among the protesters: "But, you are our president". "We are working on this issue," Sargsyan said.
Sargsyan have been facing public protests by Kond's residence since 2012 when about 30 protesters stopped his escort. That time, Sargsyan assured the protesters that everything is under his personal control and the citizens should not worry.
Each state is obliged to take care of its citizens and provide them with decent standards of living. Today's protest in Yerevan confirmed once again that Armenian government pays no attention to its citizens' problems.