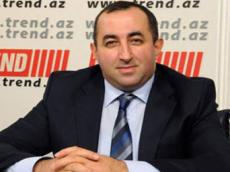 By Emil Huseynli - Trend:
The speech of Azerbaijani President Ilham Aliyev at the session of the Parliamentary Assembly of the Council of Europe (PACE) outlined a number of points.
First, the head of state briefed the European community about the work carried out in Azerbaijan in recent years. The Azerbaijani president stated that as part of Europe, the country remains committed to the European values and fulfills all its obligations.
The second point the head of state brought to the attention of the European elite is that Armenia continues to pursue its aggressive policy and violate international principles.
The factors that President Ilham Aliyev touched upon in his speech, came as a response to some double standards that are used by some European countries trying to protect Armenia and in the process tarnish Azerbaijan's image.
More precisely: Europeans see a strong Azerbaijan before them. They see that Azerbaijan has achieved great success during the period of its membership in the Council of Europe. The activity of democratic institutions, freedom of religion is ensured and the atmosphere of tolerance is preserved in Azerbaijan. Moreover the country fights corruption and bribery very seriously, along with state-level reforms. Azerbaijan has a strong, patriotic and educated youth.
Europeans once again realize that Azerbaijan plays a leading role in the region. Global projects carried out in this country influence the development of regional states.
The second and larger part of President Aliyev's speech was devoted to the Nagorno-Karabakh conflict. The facts concerning Armenia's aggressive policy were addressed and the president called on Europeans to abandon their double standards.
In his speech the president said that if Europe and international organizations continue to support "Armenia's aggressive state policy," and continue to trample international basic principles, Azerbaijan will liberate the occupied territories on its own.
The Azerbaijani president has repeatedly stressed that international law recognizes Nagorno-Karabakh as Azerbaijan's territory and Azerbaijan will never allow Armenia to establish a second Armenian state in its territory.
Regarding the questions of some European deputies, who tried to cast a shadow on Azerbaijan's achievements, President Aliyev replied to them with answers resting on significant and well-founded facts. The president exposed that the deputies questions were prepared beforehand by pro-Armenian forces, and those who want to provoke Azerbaijan in this manner follow the wrong path. The Azerbaijani president said that "deception" voiced about the country by individuals, who have never been to Azerbaijan, at some concerned forces' suggestion, are doomed to failure.
Thus, the president has made it clear that Azerbaijan is pursuing a well thought-out domestic and foreign policy. The country is on the right path, he said, and nothing will divert it from this road, as today Azerbaijan and its society enjoy close relations.
An Azerbaijani citizen believes in the country, the president and is confident that his policy serves the national interests of Azerbaijan.
Emil Huseynli is Trend Azerbaijan News Service Head