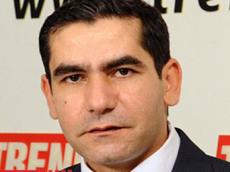 By Dalga Khatinoglu, Trend

Iranian oil minister said that the country's citizens are paying less than 9 percent of their consumed liquid fuel price.
Bijan Namdar Zanganeh said that the government is paying the rest of the cost via subsidies.
Head of Iran Energy Efficiency organization (IEEO), Hossein Sajjadi, previously said that annually the equivalent of 1,600 million barrels of oil equivalent is being consumed domestically. He said that around 400 million barrels of the mentioned amount, or 25 percent, is being wasted in the transferring process, and just 1,200 million barrels of oil equivalent are being consumed by the consumers.
IEEO's latest annual report also suggest that Iran's energy consumption in 2013 was less than 1.06 billion barrels, which means that in the past two years, energy consumption in the country has increased by 140,000 barrels oil equivalent.
According to the report, Iran's per capita gas and oil products' consumption is 6 and 1.6 times more than the global average, respectively, while the Iranian government is paying the loin share of the country's total energy carriers' consumption.
Iranian Oil Minister Bijan Namdar Zanganeh said on June 24 that currently over $90 billon worth of liquid fuel is being consumed in Iran. He added that the government pays $80 billion of the mentioned figure.
The Iranian government has increased energy carriers' prices twice since December 2010 as part of the Subsidy Reform plan, but, on the other hand the country's national currency, the rial, has lost around two third of its value since then.
The exchange rate of US dollar in December 2010 was around 10,550 rial, while it stands at 30,170 rials now.
Fuel prices in Iran (USD price has been calculated with the average price of USD at the same year)
Consumption

USD current exchange rate: 31,700

USD exchange rate in 2012: 32,000 rials

USD exchange rate in 2010: 10,500 rials

Energy carrier

390 million cubic meters

1,000 rials

700 rials

100 rials

cubic meter of gas

3.2 cents

2.1 cents

1 cents

70 million liters

10,000 rials

7,000 rials

1,000 rials

liter of gasoline

32 cents

21 cents

10 cents

5,500 tons

2,100 rials

1,000 rials

300 rials

liter of liquid petroleum gas

7 cents

3.1 cents

3 cents

100-105 million liters

4,500 rials

3,500 rials

160 rials

liter of diesel oil

15 cents

11 cent

1.5 cents

8 million liters

1,500 rials

1,000 rials

200 rials

liter of kerosene

5 cents

3.1 cents

2 cents

51 million liters

2,500 rials

2,000 rials

120 rials

liter of mazut

8 cents

6.3 cents

1.2 cents

17 million cubic meters

5,000 rials

3,000 rials

400 rials

cubic meters of CNG

18 cents

10 cents

4 cents
Beyond liquid fuels, Iran's domestic consumption of electricity was around 200 terawatt hours in the previous year. The price of one kilowatt hours of electricity is around 450 rials (1.5 cents) in Iran. It is while the price of one kilowatt hours of electricity in, for instance the United States was over 12 cents in April.
Gas accounts for over 60 percent of Iran's total energy consumption.
The price of gas in Iran is way below the global average. Iran sells each cubic meters of gas at the price of 3 cents to its citizens, but exports the same amount of gas to Turkey at the price of 45 cents.
As Iran's oil minister said, the country's residents pay only for 9 percent of their liquid gas price, but considering the price of gas and electricity it means that Iranians pay much less than 9 percent of their total energy consumption.
On the other hand, about 27 billion liters of liquid fuel was burnt in power plants last year, indicating a 25 percent increase over the previous year due to a gas shortage in winter, while the average efficiency of thermal power plants in the country is about 37 percent. This is a huge loss for Iran.
Dalga Khatinoglu is specialist on Iran's energy sector and Iran News Service head in Trend Agency