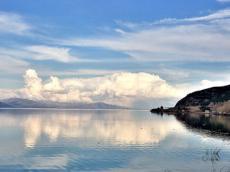 By AzerNews
Armenian oligarchs' greedy desires may lead to the destruction of the Caucasus region's largest Lake Sevan.
This natural water basin is situated in Azerbaijan's historical Gokcha region. The original name of the Sevan Lake is Gokhca, which means "Blue River" in Turkish. There were a lot of Azerbaijanis living around the lake until 1988.
Armenia deported more than 250,000 Azerbaijanis in January, 1988, as a result of its ethnic cleansing policy. Afterwards, the Armenian authorities falsified the etymology of the lake and changed its name to "Sevan".
The recent developments of the Lake Sevan confirmed that the oligarchs' interest is above everything in Armenia. The government is unable to resist oligarchs even over ecological issues.
The Armenian parliament intents to adopt some amendments to the Lake Sevan law at its upcoming sessions. As ecologists alarm that the amendments will have several negative consequences for the lake.
Civil initiative SOS Sevan held a protest rally in front of the parliament building against planned amendments to the law on April 28 calling on the parliamentary members to vote against the amendments.
The amendments require increasing the annual volume of water release from the Lake Sevan by 40 percent. The protestors also are against the program on artificial breeding 50,000 tons of fish in the lake. They believe that the permission to add annually 5,000 tons of artificial food to the lake may turn Sevan into an aquarium.
The amendments to the law are very profitable for some oligarchs, All-Armenian Ecological Front said. "Some of these oligarchs own fish breading companies in Ararat region, they are in need of water from Sevan, and others have hotels at the coast of the lake, which may be under water after five years," the front reported.
Armenia's small economy suffers seriously from monopoly, as oligopolies hold about 60 percent of the share in the Armenian market, the World Bank's reported on "Republic of Armenia: Accumulation, Competition, Cooperation" published in November 2013.
About $770 million does not go to the state budget of Armenia yearly, but goes to Ovik Abramyan's [former Parliamentary Speaker, actual Prime Minister] and other oligarchs' pockets, local media reported.
"This amount can reduce poverty at least for three-four times in the country," media report said.
Local media believe that the new government headed by oligarch Abramyan is unable to improve the situation in Armenia. Meanwhile several problems of fundamental importance are not resolved. These problems are liquidation of the monopoly and putting a large scale business into tax field.
"Abramyan will do nothing, at least for the reason that he himself is a large land owner and businessman. If former PM Tigran Sargsyan, who was not a big businessman failed to eliminate monopolies and could not put the black economy in the tax field, Abramyan will hardly score a success," media report noted.