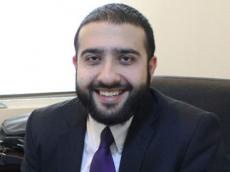 By AzerNews

People call me Elnur. In fact, it is my name. In other fact, it is what my parents called me. I am a human. I am Azerbaijani. I am a Muslim. I was created. I don't believe I came out from monkey, may be you do, but I hope you not, as you had not visit your grandparents in the zoo when you were there last time. That is kinda rude to ancestors and you know, family.
I was created, but who created me? Why am I here? Not like, why am I here in Baku, downtown writing this blog, but seriously, why I am on this planet? Is it like my parents wanted to make love and then suddenly I came out and said, here am I. By the way, this is the difference between an extrovert and introvert, saying here am I, and here you are. So, in nine months period I popped up and yelled here am I.
We, are engaged in something what is called intercourse and then a new life comes out. Is it true? Was it that, we created our child, or not? Then why we could not make him or her as we our soul wills, kinda shape the baby, put the color of the eyes as we want, make him blonde or brown, decide to have a boy or a girl, if we human species claim to be so powerful. We try to predict but what we actually do is just deriving empirical observations from life and forecasting, through time becoming more professional in this endeavor to foresee things and control the nature. Well, some people, indeed call it nature claiming that nature regulates the stuff, and there is no one to run this world. Even the very perfect systems in life, which I have not heard of so far, can't exist without intervention and timely adjustments and coordination. Can you leave a building today with all the people perfectly functioning and come back in ten years expecting everything will remain the same, the same in nature, the same in life.
What is the purpose of this temporary life. George Orwell said: all men are created equal but some are more equal than others. With all the problems in our era as wars, fights, drugs, violence, delinquency, diseases and many more in soul problems as greed, vanity, jealousy, hatred towards each other, we did not come to ourselves and asked what am I doing here, why was I put here. What happens when this life is over, and one day it will surely be over.
Have you thought about death, not your neighbors', friend's or your dog's death, but your death? You will pass away one day, start inquiring if I can put it so delicately. Ask your Creator. It is better to have a heart without words than words without heart.
This post has perhaps more questions rather than answers. Ask yourself.
I asked.