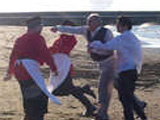 Azerbaijani ambassador to Russia, artist and actor Polad Bulbuloglu took part in a mass fight on the set of "Don't Be Afraid, I am with you 2" movie.
Nothing to worry about, since the fight was set up on the beach, and was a part of the scene.
Aside from the Ambassador Bulbuloglu, former Europe taekwondo champion Elchin Shahbazov, and actor Zaur Shafiev also participated in the above mentioned scene. Check out the photos from the shoot below.
/Day.Az/