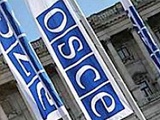 The OSCE Parliamentary Assembly (OSCE PA) is uniquely positioned to facilitate the Russia-Georgia dialogue as members of the Russian and Georgian delegations actively participate in its work, OSCE PA President Petros Efthymiou said in an interview with Trend. This is the Assembly's added value, Efthimiou stressed.
"The OSCE PA was the first inter-parliamentary body to address the August 2008 war between Russia and Georgia when just weeks after the conflict our fall conference in Toronto put an international parliamentary focuses on the situation," he said on Monday.
He said the conference had a broad participation from a number of OSCE States."I think we made some progress during this timely debate," Efthymiou said.
Efthymiou believes the OSCE PA has for a long time been one of the most effective for a dialogue on a range of security issues. "In 2009, the OSCE launched an open and comprehensive dialogue for renewing and strengthening the European security architecture, our well-known Corfu Process. Conflict resolution and reconciliation has been a major component of this dialogue," he added.
Efthymiou said the OSCE, founded on the principles of the Helsinki Decalogue, is the most appropriate place for this, and the Parliamentary Assembly has led the way in contributing to this dialogue.
The OSCE PA is doing everything to help to restore the rights of Georgian refugees from Abkhazia and South Ossetia, Efthymiou said.
At the Oslo Annual Session in July 2010, the OSCE PA adopted a resolution on the right of refuges and IDPs to return to their place of origin," he said." The resolution expressed regret over the human suffering among the civilian population during and after the 2008 war, urged all sides to continue dialogue within the framework of the Geneva discussions, and called for co-operation in facilitating a swift and safe voluntary return of all refugees and IDPs to their homes of origin."
/
Trend
/