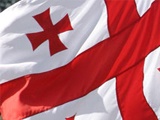 The Georgian parliament will host a reception today to celebrate the 66th anniversary of Victory Day, in honor of WWII veterans who defeated fascism.
The Chairman of the Veterans' Department Nugzar Tsagareishvili said the reception will commence at 4:00 pm, led by Parliamentary Speaker David Bakradze.
About 150 veterans will meet with Bakradze and other MPs, he told Trend. Earlier, the veterans will attend the event at Vake Park and lay a wreath at the Tomb of the Unknown Soldier.
Bakradze is expected to attend the event at Vake Park at 10:00 am.
/
Trend
/