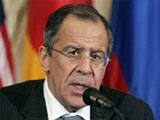 Russian Foreign Minister Sergei Lavrov has called on the Iran Six to work on restoring trust in Tehran, RIA Novosti reported.
Speaking in Geneva, Lavrov said that it was time to reach specific agreements on the Iranian nuclear issue.
"I see the gradual approach as the most realistic one, when trust is being restored and Iran starts to react positively to the IAEA and UN Security Council's demands," Lavrov said, adding that Iran's cooperative behavior will ease the sanctions.
The West suspects Tehran of pursuing a secret nuclear weapons program, which Iran strongly denies, insisting it needs atomic energy solely for civilian purposes.
Iran is currently under four sets of UN sanctions over its refusal to suspend uranium enrichment, including tougher financial controls and an expanded arms embargo, as well as an asset ban on three dozen companies and a travel freeze on individuals.
The Iran Six, which comprises Russia, the United States, China, Britain, France and Germany, has been trying since 2003 to convince Iran to halt its uranium enrichment program and to alleviate concerns about its nuclear ambitions.
/
Trend
/