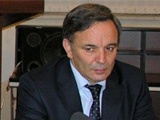 Azerbaijani Press Council will monitor news web resources' compliance with the rules of professional journalist ethics in Azerbaijan, chairman of the Press Council of Azerbaijan Aflatun Amashov told Trend on Friday.
"In Azerbaijan, in some cases, using online news resources, reporting news about people, the journalists violate rules of professional ethics of journalists. The Press Council has expanded its activities in this regard. We have already started to receive complaints related to Internet resources. From now, all complaints under this matter, addressed to the Press Council will be considered," said Amashov.
Currently about 20 popular online news resources operate in Azerbaijan. According to Amashov, in January next year, a special event will be conducted, associated with control on online news resources.
"A report on the real situation in this regard will be presented at this event. The hearing will be held until full clarification of the situation. After that we will regularly collaborate with journalists and try to ensure that materials comply with the rules of professional ethics of journalists and not go beyond them. The Press Council of Azerbaijan has comprehensive plans on this issue," he said.
According to the chairman of the Press Council, there is a proposal to establish control over the social networks on the Internet. "This issue has become a topic of discussion in the Alliance of Press Councils in Europe. The social networks are referred as a source of free links. But it sometimes leads to the implementation of certain subversive purposes. In particular, a number of terrorist organizations carry out their propaganda through such networks. It is therefore necessary to establish control compliance of rules of ethical conduct in network," said Amashov.
According to him, the United Kingdom already has experience in this regard, but control is not successful. "So far, discussions are conducted on how and in what form they must be monitored. At a meeting of the Alliance of Press Councils, which will be held in Russia, the control over social networks will be one of the main topics of discussions," said the Council's chairman.
/Trend/