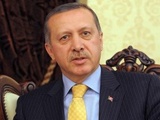 Prime Minister Recep Tayyip Erdoğan has sued Oktay Ekşi, former chief columnist of the Hürriyet daily, and the newspaper for offensive remarks Ekşi used against him and his family.
Erdoğan's lawyers filed the lawsuit after Ekşi said, "Now you are seeing the achievements of a mindset willing to sell one's own mother," referring to members of the government when criticizing Energy and Natural Resources Minister Taner Yıldız and Environment Minister Veysel Eroğlu as well as Erdoğan over a government project to build a hydroelectric complex in the Black Sea province of Rize, in his column published on Oct. 28.
The phrase Ekşi used in Turkish is highly offensive and implies one who is willing to sell one's mother into prostitution. Erdoğan demands TL 100,000 in compensation for the denigrating remarks.
Ekşi apologized in his following column, published on Oct. 29, admitting that he had overstepped his limits, and eventually resigned from Hürriyet, where he had been working as the chief columnist for the past 36 years.
Erdoğan's lawyers said in the petition they drafted to open the case that "an apology could not solve the problem in such an issue." Minister Yıldız also sued Ekşi for his remarks and asked for an unspecified amount in compensation.
Ekşi's apology and subsequent resignation were, however, not sufficient for avoiding the lawsuits against him; they also failed to appease calls for his resignation from Turkey's Press Council.
Deputy Prime Minister Bülent Arınç said: "This resignation is not enough. … I think it would also be appropriate for him to resign from the chairmanship of the Press Council. This would be a good thing." Yıldız also claimed that Ekşi should leave his post at the Press Council.
/World Bulletin/