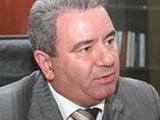 Signing a contract with the carrier rocket of the first national telecommunications satellite Azerspace is expected by early October, the Minister of Communications and Information Technologies Ali Abbasov said at the Ministry's board on the results of the first half of the year.
He said work on the project carried out in accordance with the set program. In the future we plan to conduct training, construction of the ground control station, marketing measures, etc.
To date, the Azerbaijani Communications and IT Ministry signed a contract with the Orbital Sciences Corporation to produce the Azerspace national telecommunications satellite. Also the ministry has signed a long-term contract on leasing an orbital position for Azerspace with the Malaysian satellite operator MEASAT.
Azerbaijani Azerspace telecommunications satellite is designed to provide digital broadcasting, Internet access, data transmission, a multi-service networks VSAT, as well as governmental communications. Azerspace will be equipped with 24 transponders C band and 12 transponders Ku band. The satellite will be placed in orbit at 46 degrees east longitude. The satellite's term is 20 years. Its service area will cover Europe, Central Asia and Africa.
The implementation of the project to launch a national satellite Azerspace will allow introducing new technologies in space systems of telecommunication and communication, including the access to the Internet, as well as provide informational independence and form single information sphere.
At present, Azerbaijan annually spends millions of dollars to rent transponders of foreign satellites for communication and broadcasting. Launching of a national satellite will solve the problem. The payback period is about five-seven years. Azerbaijan's capital investment in the project is approximately 319 million manat; 127 million will be spent on operating costs. The payback period is 6 years, and the income will reach 176 million manat.
The income from the Azerspace national telecommunications satellite will reach roughly 495 million manat. Incomes will amount to 176 million manat. The received revenue will be spent to the country's technological development. "Azerspace is expected to launch in July-August 2012," the minister said earlier.
Future plans of the ministry include expansion of satellite stations for the development of DVB-S standard (Digital Video Broadcasting - Satellite), which is a fast, reliable and economical way to deliver TV signal of high quality to any part of the vast space under the state program on development of space industry.
/Trend/