Azerbaijani Foreign Ministry has announced a number of French parliamentarians non-grata due to their visit to Azerbaijan's Armenia-occupied lands.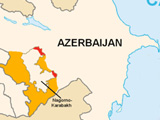 Azerbaijani Foreign Ministry has checked accuracy of the information about visit of French parliamentarians to the occupied territories of Azerbaijan through its own channels, Azerbaijani Foreign Ministry Spokesperson Elkhan Polukhov said.
"This information was confirmed, and members of the French parliament Arlette Groskost, Pascal Crozon, Richard Mallie, Rine Ruke, Francois Roshbluan, Michel Diefenbaker and Jean-Pierre Delannoy are included in the list of persons whose visit to Azerbaijan is not desirable. These people have been declared persona non-grata in Azerbaijan," Polukhov added.
"It is surprising that members of a legislature body who understand the importance and value of the law of a sovereign country, violate the law of another sovereign state, even if it is done for the sake of French voters of Armenian origin, for which, apparently, they took such steps," he said.
As previously reported, the above-mentioned French deputies visited the occupied territories of Azerbaijan to meet with the leadership of the separatist regime.
/Day.Az/