A total of 43 people suffered from bite of venomous snakes in Azerbaijan since the beginning of summer, doctor at toxicology center Azer Magsudov said.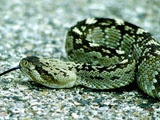 He said the suffers include both old people and children.
"Only one of the cases was fatal. Bite of venomous snakes mainly occur in Aran, Yevlakh, Barda, Lankaran, Astara, Ismayilli and Gabala regions of the country," Magsudov said.
As many as 63 people suffered from venomous snake bite in 2008 and 47 people in 2007.
/Day.Az/