On October 27, President of Azerbaijan Ilham Aliyev got acquainted with the course of construction of the National Flag Square, Day.Az reports with reference to AzerTac.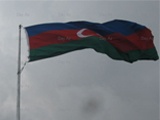 The President toured the construction site, took a look at the design for the square, wondered about the quality and technical parameters of construction, and gave instructions to do the work in accordance with highest standards.
Construction activities are carried out by Azerbaijan "Azenco" company with involvement of foreign specialists. The square will cover an area of 20,000 square meters. The flag to be 2450 square meters (35x70) in area and to weight 250 kilograms, will be fastened to a 162-meter high flagpole, a 96-meter section of which has already been completely assembled.
The foundation stone for the National Flag Square was laid near the Naval Base in Baku Bayil settlement on 30 December 2007 under the President Ilham Aliyev's Executive Order of November 17, 2007 "On creation of National Flag Square in Baku."
/Day.Az/