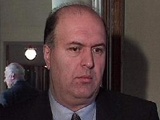 Georgia should conclude a military-political and economic treaty with Azerbaijan so that our countries could control the entire South Caucasus, said Akaki Asatiani, chairman of the Georgian Traditionalists Party and former speaker of Georgian parliament of Zviad Qamsakhuarid's times.
He said if today Azerbaijan and Georgia play geopolitical games together, they will be able to block and control the South Caucasus and ways passing it both from North to South and from East to West.
"We have a good historical example of close cooperation of the Georgian kingdom and Shirvanshahs in the 12th century, when both of our countries were flourishing. The world history had never witnessed such friendly and brother relations before. The result of this relations was cultural flourishing of our countries. Such world-famous sons of our people, as Shota Rustavelli and Nizami, lived in that very period", said he, "Therefore, I consider that this history should be propagandized now and such relations should be restored. I do not fear opening of borders with Azerbaijan. Our Azerbaijanis are respectable citizens of Georgia. Even in the most complicated periods of Georgian history, we have never had problems with them, which should be valued".
He added that in the framework of such a policy, it would be better for Georgia to reject its NATO-oriented policy and take neutral position, like Azerbaijan, which builds good relations both with the West and Russia.
"Georgia should conclude a military-political and economic treaty with Azerbaijan. In this case the whole world will reckon with us. But the super states do not want to accept it", added Asatiani.
According to him, the ally relations between Georgia and Azerbaijan started to form in the 1990s, in which Heydar Aliyev's role was greater than that of Edward Shevarnadze, but these relations have recently began to come to naught.
"I suppose Georgia should not strive for NATO accession, only because the United States want it. We are not Americans and we should think of Georgia. If Russia offers us to help return Abkhazia and South Ossetia in exchange to reject joining NATO, why should we not accept it? It would be better than to be within NATO without Abkhazia and South Ossetia. But our authorities have not made such a proposal to Russia. If they did, I am sure that Kremlin will make concessions to us, as I believe that Putin is a man of sense.
Anyway, it is possible to to come to an agreement with Putin than with his forerunner Yeltsin.
Russia's interests are clear, it does not try to conceal them- it strives for restoring the Russian empire by liberal methods, that is by economic nut military ways. West is trying to resist it and try to create a belt of enemy-countries around Russia. But it is impossible to create such a belt without Ukraine and Georgia. Russia is aware of it and fight with it but the United States is so far defeating Russia, as its policy it wiser.
On the whole, Russia's policy like in the former USSR, is built on orders. The West bases policy on persuasion. It tries to make people believe in one's promises and not to kill for disobedience, like it was practiced in the former USSR", concluded Asatiani.
/Day.Az/