President of State Oil Company of Azerbaijani Republic (SOCAR) Rovneg Abdullayev met with delegation headed by Gerhard Roiss, deputy chairman of Austria's OMV Oil Company.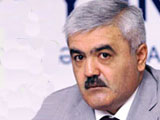 SOCAR told APA-Economics that Rovnag Abdullayev noted Azerbaijan is interested in exportation of Azerbaijan-produced hydrocarbon to Europe and on this purpose informed the guests about newly commissioned Baku-Tbilisi-Ceyhan oil and South Caucasus gas pipeline.
SOCAR President noted that there are some transnational projects considering exportation of energy carriers produced in Caspian basin to Europe and there is great keen on Nabucco project. Azerbaijan intends to export its natural gas to Europe with the most suitable terms and that is why this kind of meetings is of great importance.
Mr. Roiss expressed his assurance that Azerbaijan will play great role as participant and as transit country in transportation of oil-gas resources to Europe through Nabucco pipeline.
Deputy Chairman also noted that they are interested in the development of relations with SOCAR in all spheres.
The parties have stressed the negotiations should be continued in experts level in order to investigate partnership potentials between the two companies.