A U.S. delegation headed by Assistant Secretary of State for Economic, Energy and Business Affairs Daniel Sullivan has arrived in Astana to discuss diversifying Kazakhstan's oil and gas export routes.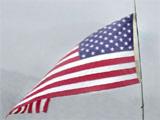 The discussion will not focus solely on routes by-passing Russia, he said.
However, the Russian transportation system will not be able handle the ever-increasing volumes of Kazakh oil and gas exports to Europe, he said.
Diversification of Kazakhstan's export routes is an issue today because of the significant increase in oil production projected in coming years, Sullivan said, adding that 100% of Kazakh gas and 90% of Kazakh oil are currently exported through Russia.
Sullivan also said it is high time that Kazakhstan joins the Baku- Tbilisi-Ceyhan oil pipeline project.
The trans-Caspian pipeline is key for Kazakh gas exports, Sullivan said. He hopes that American companies operating in that region will join the project.
The United States wishes to discuss the Caspian Pipeline Consortium development with Kazakhstan, Russia and other investors, Deputy Assistant Secretary of State for European and Eurasian Affairs Matthew Bryza told the press conference.
A decision to build the trans-Caspian pipeline may be made when Kazakhstan expands gas production, and the United States hopes that will happen in five, ten or fifteen years, he said.
Sullivan will meet with Kazakh officials in Astana to discuss energy, export opinions, regional and economic integration, economic diversification, and Kazakhstan's accession to the World Trade Organization (WTO).
The delegation will also visit Azerbaijan, Turkey and Georgia and attend an international conference on Caspian energy in Paris.
/BakuTODAY.net/