Azerbaijan allocated AZN 694 million to finance infrastructure projects in 2006.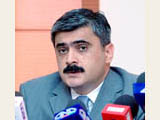 Finance Minister Samir Sharifov said at government annual meeting that turnover of goods and passengers increased through improvement of infrastructure.
"Water supply system and transport infrastructure were further improved. Repair of 800km roads and start of the construction of crossings and tunnels in Baku spent $162 million last year," he said, APA reports.
He said AZN 881mln from the state budget, AZN 395mln from State Oil Fund, US $480mln secured loan from abroad were directed to the economy in 2006. This figure is a 3.4 times up from last year.