Asia Telecom Ltd. announced Q4-2006 results for its operating subsidiary in Azerbaijan.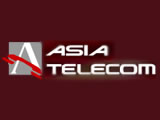 The Company has increased the amount of traffic passing through its VoIP channels in Azerbaijan to 8,500,000 minutes per month. This traffic has translated into Q4-2006 revenues of approximately US$2,500,000.
The Company plans to increase VoIP traffic to 10,000,000 minutes per month by the end Q1-2007. This should lead to Annual revenues exceeding US$12,000,000 by the end of 2007.
CEO Ayaz Karimov stated, "These results position our company to become the second largest operator in the market for long-distance communication in Azerbaijan in terms of volume of incoming and outgoing VoIP traffic after Rostelecom."
Asia Telecom, Ltd. intends to become a VOIP telecommunications company with a strategic focus on establishing and maintaining operations in Central Asia and Eastern Europe. MARKET WIRE