During past nine month collection of the electric bills in Ganja increased by 32.2% as against the same period last year.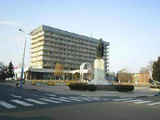 The level of collection reached 84.3% in this period and this indicator is 64.2% for population, APA reports.
Ganja Regional Energy LLC spokesman Rafig Abbasov said that Ganja will have no problem with electricity if the collection tendency is ongoing.
"Some still don't pay the bill. They will be left with electricity if they continue not to pay the bills," he said.
He also said 92 percent of Ganja has been provided with electric meters. The city will be provided with the electric meters by this year end.