The head of Armenia's Jewish community, Rimma Varzhapetian, publicly criticized the country's minister of the environment for making an antisemitic comment.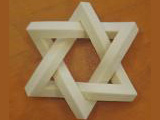 According to a September 28, 2006 report by the Russian Jewish web site Jewish.ru, Speaking at a press conference, minister Vardan Ayvazian reportedly characterized the American mining company Global Gold as "kikes" asking the reporters: "Do you know who you are defending? You are defending kikes! Go over there [company headquarters] and find out who is behind this company and if we should let them come here!" He later stated in an interview with Radio Liberty that he didn't mean to offend Jews.
Although not reported by Jewish.ru, the reason for the minister's outburst may be that Global Gold, which has invested $6.5 million in Armenia and has been blocked by Mr. Ayvazian's ministry from exploiting a mine in the Nakhichevan region, has accused Mr. Ayvazian of shaking down the company for bribes.
/Union of Councils for Jews in the Former Soviet Union/