OSCE Mission will visit the region in October for assessing Armenian arsons in occupied Azerbaijani territories to prepare an environmental operation in accordance with the UN relevant resolution, Azerbaijan Foreign Ministry told.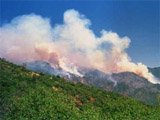 The mission will assess the damage caused by the massive fires and prepare recommendations for the environmental operation, APA reports.
The report on joint operations to be conducted by UN Environment Program in conjunction with several other organizations will be presented to UN General Assembly Member-States in April 2007.