"Lake Boyuk Shor in Baku shouldn't be dehydrated. It can have bad results.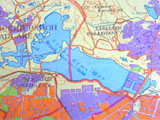 "If dehydrated, sediments will be spread by wind and it can cause even unknown diseases," Ecology and Natural Resourses Ministry National Monitoring Department director Lahudi Aliyev told APA.
He said that Lake Boyuk Shor has a lot of polluters including oil and heavy metal pollutions.
Every day 15,000 cubic meters of polluted water flow into the lake: "Surrounding of the lake is in bad condition. Waste, litters are thrown there. Residential zone near the lake has no sewerage. It is necessary to clear the lake. And this requires financial means."
Aliyev also said that the ministry thinks the only solution to the problem is to provide all new residential zones with sewerage and the president has also gave instruction concerning this.