Ukraine sold 25 T-72 tanks, 2 PDM-1 (armored carriers), 11 9A52 and 23 PM-38 artillery mounts to Azerbaijan in 2005.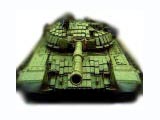 It is reported in Ukraine's report on selling of weapons and military equipment to world countries submitted to the UN, APA informs.
According to the report, Ukraine exported 62 tanks to foreign countries (25 T-72 tanks to Azerbaijan, 22 tanks to Algeria and 16 to Georgia), 38 armored carriers (2 PDM-1 to Azerbaijan, 2 ZTR-3E to Kazakhstan, 12 PDM-2 and 10 ZTR-80 to Georgia, 12 PDM-2 to Uganda), 89 big caliber artillery system (11 9A52 and 23 PM-38 artillery mounts to Azerbaijan, 6 2 C3 to Georgia) in 2005.
In the reporting period, Ukraine also sold 28 jet-planes, L39C most of all to foreign clients. I exported four jet-planes to Belarus, twelve to Yemen, two to Slovakia, one to Estonia, three to Great Britain and one to Czechia last year. Ukraine exported 3 Su-2 fighter-bombers to Vietnam, one Su-24 bomber and one MiQ-23 MLD fighter to Estonia last year. Ukraine also exported 12 military helicopters (6 Mi-24 and 2 Mi-8MT to Georgia, 1 Mi-24 to Congo, 2 non-military Mi-8MT to Latvia and 1 non-military Mi-8MTV-1 to Lithuania).
Ukraine was a leader in export of missiles last year too. It sold two R-40 missiles to Algeria, 12 R-27 to Kazakhstan, 363 R-27 to China, three R-27 to Slovakia, one missile system 9K52, four 9 117M1 "SCAD-B", as well as 29 9M39 "Igla" missile system and six 9P516 to the US.
Ukraine gained $680 million from export of weapons and military equipment last year. Main exported military products were aviation, armored equipment, air attack defense systems and radar mounts.