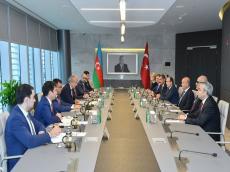 By Azernews
Qabil Ashirov
Azerbaijan and Turkiye will build a pharmaceutical factory to produce medicaments, Azernews reports, citing the Azerbaijani Economy Ministry.
The Economy Ministry held the meeting with "Gen ?laç ve Sa?l?k Ürünleri Sanayi ve Ticaret A.?.", which specializes in the field of pharmaceutical production in Turkiye. The meeting discussed the expansion of cooperation with the company.
The meeting heard the political will of the heads of state, friendly and brotherly relations, and the implementation of the tasks given by them are important in effectively using the potential of economic cooperation. It was brought to our attention that a successful economic trade and investment partnership has been implemented between Azerbaijan and Turkiye. Expanding the scope of the Preferential Trade Agreement with the brotherly country, which is one of the main trade partners of our country, will create an additional incentive to strengthen our economic and trade cooperation. It was reported that effective steps are being taken towards the development of partnerships with Turkish companies and the implementation of mutually beneficial joint projects. Cooperation in the field of pharmaceuticals is also important in this regard. Cooperation in this field can increase the possibilities of the production of pharmaceutical products in Azerbaijan.
At the event, Azerbaijan Investment Company OJSC and Gen ?laç ve Sa?l?k Ürünleri Sanayi ve Ticaret A.?. signed a cooperation agreement. The main goal of the project is to contribute to the replacement of imports of important pharmaceutical products at the expense of local production and their availability in the consumer market under favorable conditions. According to the document, it is planned to build a factory for the production of pharmaceutical products in Azerbaijan. In addition to the domestic market, the products produced by the plant are expected to be exported to neighboring countries.